News
ALEKSANDRA ĆWIK IN KRD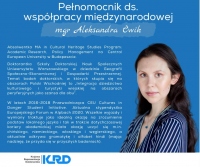 Aleksandra Ćwik – a doctoral candidate at EUROREG – has been appointed an advisor for international cooperation in the Polish National Association of Doctoral Candidates (KRD).
What she has to say about her motivations and new responsibilities:
"I connect various teams of KRD, its Board and other external institutions that work for the internationalisation of Polish science. I care about Polish early career researchers and their strife to extend their research beyond borders. I also attempt to support daily challenges faced by foreign doctoral candidates in Poland. I deem both tasks critical, and they already keep me (encouragingly!) busy.
Congrats, Aleksandra!
Photo credits: Polish National Association of Doctoral Candidates