News
AN HONOURABLE MENTION FOR A MASTER THESIS BY OUR ALUM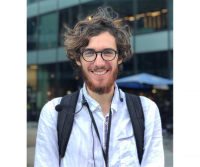 Franciszek Bojańczyk was awarded a distinction during the 4th edition of a competition by the National Institute of Architecture and Urban Planning (NIAiU).
This year's competition theme was "Common space is a value (Przestrzeń wspólna jest wartością)".
Franciszek received an honourable mention in the category which rewards theoretical academic theses. His work "Powojenne przemiany przestrzeni małego miasta "poniemieckiego" na przykładzie dolnośląskiej Niemczy" was written under the careful supervision of Prof. Mikołaj Herbst and presents a case study of a small town exemplifying the transformation in the urban space of small formerly German towns after the World War II.
Tune in to a closing debate (in Polish) when Franciszek and other laureates discuss the challenges posed before common space researchers and the issues of the inclusion of forgotten spaces and communities. The debate will take place on October 13, 2021, at 6 PM. [link]