News
NEW ISSUE OF THE SRiL QUARTERLY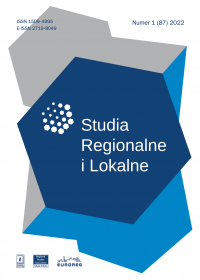 New issue of "Studia Regionalne i Lokalne" has been published. Inside about, among others, modernism heritage, animal farms and cohesion policy.
Along with issue 2/2021 and forward, the journal is published only in an electronic and open access form. It means that all articles are available online at studreg.uw.edu.pl, right after their publication. On the same occasion, we make all archival volumes available, including those previously protected by a paywall.
1(87)2022 Contents:
Darina Dvornichenko Assessing the Correlation Between Women's Civic Engagement and Elected Political Participation: A Case Study of Six Polish Cities
Borce Trenovski, Gunter Merdzan, Filip Peovski Municipal Revenue Determinants in the South-Eastern European Economy: Evidence from North Macedonia
Abdul Nadjib, Oemar Madri Bafadhal, Anang Dwi Santoso Social Capital, Bureaucratic Neutrality, and Regional Head Election in Indonesia
Marcin Wajda Alokacja środków na programy regionalne – analiza i ocena propozycji zawartych w projekcie Umowy Partnerstwa dla realizacji polityki spójności 2021–2027 w Polsce
Maria Bednarek-Szczepańska Siła protestu w grze o przestrzeń. Wpływ społeczności lokalnej na decyzje środowiskowe dla obiektów hodowli i chowu zwierząt
Mariusz E. Sokołowicz Wartościowanie niejednoznacznego dziedzictwa modernizmu w mieście na przykładzie stacji kolejowej Warszawa Ochota
Grzegorz Gorzelak Marek Szymaniak, Zapaść. Reportaże z mniejszych miast, Wydawnictwo Czarne, Wołowiec 2021, 253 s.
The Quarterly website: studreg.uw.edu.pl
photo: Jarosław Tarań, 1968, Ośrodek KARTA, źródło: Fotohistoria.pl