News
CONGRATULATIONS TO MONIKA BANASZEWSKA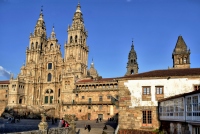 The results of the competition for the RSA Annual Conference "Pushing Regions beyond their Borders" scholarship, are in!
Thank you for all of your submissions, and congratulations to Monika Banaszewska for winning the scholarship, with the paper "The political economy of preferential tax treatment. An empirical analysis of Polish municipalities"!
The Conference itself will take place at Santiago de Compostela, Spain, between the 5th and 7th of June 2019.
Soon we will announce the next scholarship contest, linked with the RSA "Student and Early Career Conference 2019", which will take place in the autumn of 2019, in Lincoln, Great Britain.
You may find additional information here and from May on the websites of The Poland Section of the RSA and EUROREG.
Photo: Jocelyn Erskine-Kellie (CC BY 2.0)