News
JAKUB MAJEWSKI PhD IN THE EUROREG TEAM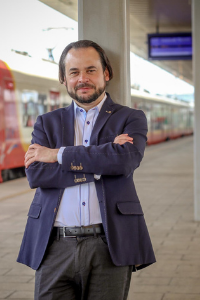 Welcome to our team, Jakub Majewski PhD, an expert in transport policies
My main research topic is policies related to transportation and in particular constructing the network of railway connections. Transport is a field that can be viewed from many perspectives - technical, economic, political and spatial. However, the final perspective mentioned is key as it is the aim of transportation to overcome space. Hence, there are so many geographers amongst those who specialize in transport.
- Why did you choose this topic?
My research career intersects with my professional experience. I am a EUROREG graduate with a specialization in spatial planning. For five years after graduation, I worked on preparing the development strategy and spatial management plan for the Mazowieckie Voivodeship, concentrating on the development of the networks of transportation. Later, I joined the railway subdivision, and then the Rail Transportation Office, where I have had the chance to implement ideas for thindustry's expansion in practice. My experiences from that period brought about a PhD dissertation in the field of the public transportation policy. And today, returning to EUROREG after 20 years, I plan to continue research on the role of transport in regional development and spatial management.
Dr Jakub Majewski's profile on the EUROREG website.