News
INURA 2018 SCHOLARSHIP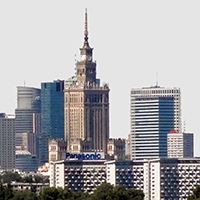 EUROREG calls for scholarship submissions from students of Belarusian and Ukrainian universities to take part in the International Network for Urban Research and Action INURA 2018 in Warsaw.

ABOUT THE CONFERENCE
Date and venue: 23-27 June 2018, Warsaw, Poland
Main theme: Footloose Warsaw. Towards a walkable urban theory
The conference will be held in English
More information about the conference at: www.inura18.wordpress.com


ABOUT THE SCHOLARSHIP
Scholarship covers the conference fee, accommodation in Warsaw (5 nights), travel to Warsaw, and a flat-rate contribution for meals outside of the conference programme
Students of universities from Belarus and Ukraine can apply only (at least one scholarship for Belarusian university students and at least one scholarship for Ukrainian university students will be awarded)
Scholarship will be awarded on a competitive basis, based on a brief personal narrative and CV
Funded by: Centre for European Regional and Local Studies EUROREG, University of Warsaw
More information about the scholarship at: www.euroreg.uw.edu.pl


HOW TO APPLY?
Submissions should include: (1) a brief personal narrative in English explaining how participation in the INURA conference in Warsaw will help you develop academically and professionally (200-500 words); (2) a short CV in English (maximum 2 pages)
Submissions should be mailed to: info.euroreg@uw.edu.pl
The subject line should read: "Scholarship for INURA 2018 conference"
The deadline for submissions is 30 May 2018 (inclusive)
The list of winners will be published on 1 June 2018
For any additional queries please contact: info.euroreg@uw.edu.pl (with the subject line: "Scholarship for INURA 2018 conference")


DOWNLOAD: Scholarship information in PDF
DOWNLOAD: Urban and Regional Studies at EUROREG (information in Russian)