News
NEXT ISSUE OF THE SRiL QUARTERLY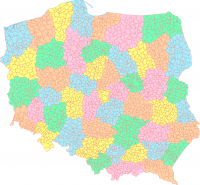 New issue of "Studia Regionalne i Lokalne" has been published. Inside about, among others, discussion on Poland's territorial division, the European Committee of the Regions and relations between the quality of government and the EU cohesion policy.
Complete issue as well as single articles can be purchased in Scholar online bookstore. Free access to full-text of all articles, with 12-month embargo, is available at the SRil webpage. Articles from the latest issues are available in the Central and Eastern European Online Library CEEOL (free access through BUW E-resources).
Table of Contents 2(72)/2018
Janusz T. Hryniewicz, Maciej Smętkowski, Adam Płoszaj
Jakość rządzenia a polityka spójności: wzajemne relacje w różnych kontekstach regionalnych
Przemysław Śleszyński
Problem podziału terytorialnego Obszaru Metropolitalnego Warszawy i wnioski dla Polski
Grzegorz Gorzelak
Terytorialna organizacja kraju – czy już czas na dyskusję?
Paweł Swianiewicz, Anna Kurniewicz
Cykl polityczny w opłatach za lokalne usługi publiczne w Polsce
Magdalena Dej, Wojciech Jarczewski, Michał Chlebicki
Skala i charakterystyka procesów relokacji przedsiębiorstw w polskich obszarach metropolitalnych – wstępne wyniki badań
Maciej Onasz, Michał Klonowski
Wybrane zmiany w systemie wyborczym organów jednostek samorządu terytorialnego wynikające z ustawy o zmianie niektórych ustaw w celu zwiększenia udziału obywateli w procesie wybierania, funkcjonowania i kontrolowania niektórych organów publicznych – wstępna ocena
Beata Guziejewska
Funkcje i przyszłość Komitetu Regionów w unijnych i krajowych procesach decyzyjnych
Graphics: Poland's administrative division between 1975 and 1998. Source: VV94 - own work, CC BY-SA 4.0, https://commons.wikimedia.org/w/index.php?curid=66306160