News
THE CEREMONIAL CONCLUSION OF THE ACADEMY OF REGULATORY IMPACT ASSESSMENT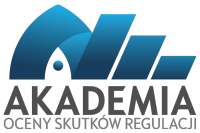 96 graduates completed the two-semester postgraduate studies - mostly analysts employed at ministries and central offices.
The ceremony took place on January 23rd, at the Center for Biological and Chemical Sciences, University of Warsaw
The Academy of Regulatory Impact Assessment consists of a two-semester post-graduate course and continuous training in the field of analytical techniques, commonly used as part of regulatory impact assessment.
The Academy aims to train policy analysts who will be able to effectively perform analyses and provide clear results to decision-makers, in order to support them in the process of designing and implementation of public policies.
The Centre for Open and Multimedia Education (COME), in cooperation with EUROREG, is the operator of this undertaking at the University of Warsaw, pursuant to an agreement with the Chancellery of the Prime Minister (KPRM).
The order is implemented as part of the project entitled "Academy of Regulatory Impact Assessment", co-financed by the European Union under the European Social Fund (Operational Program Knowledge Education Development, Priority Axis II, Action 2.16).