News
PHOTOGRAPHY EXHIBITION IN ROME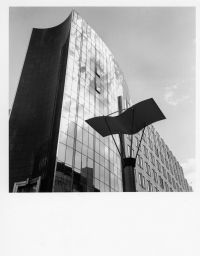 Between October 22 and December 22, 2020, EUROREG is going to Rome for a photography exhibition "Brussels - Contrast and Harmony in a Changing Town", which is dedicated to the transformation of the European quarter in the Belgian capital.
The author of the photographies is Prof. Mauro Casalboni, while Dr Katarzyna Romańczyk has contributed with an article "Overshadowed legacy of the Leopold Quarter in Brussels". The text is published in the exhibition's catalogue.
More details available here:
https://maurocasalboni.eu/sciamanna
Facebook event
The excerpt from Dr Katarzyna Romańczyk's article:

"(…) The process of haphazard urban alteration in the capital of Belgium is often called Brusselization and is most prominent in the Leopold Quarter, currently known as the European Quarter.
The Leopold Quarter was founded in the 1840s and was the first bourgeois district of Brussels, located outside the very centre of the city. At the end of the 19th century it became a cradle of Belgian Art Nouveau architecture and gained a reputation of one of the most prominent places in Brussels. With the arrival of European officials, the district successively began to transform into an enclave of landmark European institutions that have been squeezed into a limited space. Three parameters depict the character of metamorphosis in the quarter. These are: a decrease in the number of residents from 49 000 in 1970 to 24 000 in 2000, a rise in the number of officials from 300 in 1958 to 40 000 in 2015, and an increase in office space from 317 000 m2 in 1960 to 1.8 million m2 in 2015. (…)
(…) In that respect, this type of factual photography provides important visual tools to confront and depict how residential order may be disrupted by the bureaucratic disorder. The pictures presented at the exhibition capture a variety of architecture styles and convey the atmosphere of the principal public spaces in the documented areas. Casalboni, with his approach to reality, expresses very clearly the arrangements of different urban forms and creates a vivid image of one of the most politicised and empowered urban quarters in Europe".
fot. Mauro Casalboni