Publications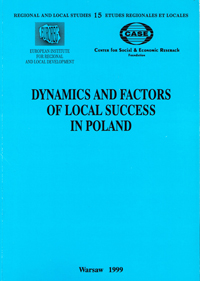 Dynamics and factors of local success in Poland
Publication type:
edited book
Full citation:
Grzegorz Gorzelak, Bohdan Jałowiecki, Richard Woodward, Wojciech Dziemianowicz, Mikołaj Herbst, Wojciech Roszkowski, Tomasz Zarycki (red.) (1999)
Dynamics and factors of local success in Poland.
Seria: Regional and local studies, nr 15. Warsaw: University of Warsaw, European Institute for Regional and Local Development, s. 137.
Download the publication: