Publikacje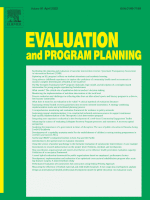 Does Evaluation Quality Matter? Quantitative Analysis of the Use of Evaluation Findings in the Field of Cohesion Policy in Poland
Typ publikacji:
artykuły w czasopiśmie
Opis bibliograficzny:
Kupiec Tomasz (2022)
Does Evaluation Quality Matter? Quantitative Analysis of the Use of Evaluation Findings in the Field of Cohesion Policy in Poland
. Evaluation and Program Planning, Vol. 93, 102103.
DOI:
https://doi.org/10.1016/j.evalprogplan.2022.102103
Numerous studies have examined the impact of evaluation quality on the use of evaluation, yet the findings are still inconclusive and only derived from examples in countries with a well-established evaluation culture. This article examines the relationship between evaluation quality and the instrumental use of evaluation in administrations with a low maturity of evaluation culture using Poland as a case study. The research method employs quantitative analysis of datasets regarding evaluation quality and recommendation use from the Polish cohesion policy evaluation system.
The use of evaluation findings was measured at two stages: acceptance of recommendations and actual implementation. The results show that the impact of evaluation quality on the use of evaluation is limited and sometimes puzzling. While perceived utility increases the odds of accepting recommendations, the quality of analysis and conclusions reduces it. The actual implementation of recommendations is supported by the robustness of methodology, quality of the analysis and the clarity of the final report. Data reliability and achievement of the study objectives have no significant impact on either the decision to accept or implement recommendations. The problem of symbolic use is discussed as a potential explanation for the observed results.