Publikacje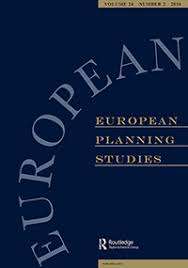 The role of exogenous and endogenous factors in the growth of regions in Central and Eastern Europe: the metropolitan/non-metropolitan divide in the pre- and post-crisis era
Typ publikacji:
artykuły w czasopiśmie
Opis bibliograficzny:
Smętkowski Maciej (2018)
The role of exogenous and endogenous factors in the growth of regions in Central and Eastern Europe: the metropolitan/non-metropolitan divide in the pre- and post-crisis era.
European Planning Studies, Vol. 26 (2), pp. 256-278.
DOI:
https://doi.org/10.1080/09654313.2017.1361585
The aim of the paper is to analyse regional growth factors in Central and Eastern European Countries in the pre- and post-crisis era. The comparison is focused on core (metropolitan) and non-core (non-metropolitan) regions. The study found that the development processes of the analysed groups of regions were in many respects similar. Achieving a high level of development in the context of post-socialist transformation was possible mainly owing to exogenous factors such as the influx of foreign direct investment (FDI) and multimodal transport accessibility. In the case of endogenous factors, the number of small- and medium-sized enterprises per capita was of cardinal importance for a high level of development, but it was no guarantee of fast growth dynamics in non-core regions. The main differences between the core and non-core regions included the role of human capital and migrations as metropolitan regions represented growth poles which trained qualified specialists and served as destinations for migrants from non-core regions. However, the share of people with tertiary education played an important role in the development process of non-core regions. The crisis strengthened the role of exogenous growth factors, that is, the role of FDI inflow as well as the role of EU funds.
Publikacja powstała w ramach projektu:
GRINCOH: Growth – Innovation – Competitiveness: Fostering Cohesion in Central and Eastern Europe
(7PR)
(2012-2015)